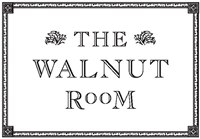 The Walnut Room at Macy's
111 North State Street
Chicago, IL 60602
Phone: (312) 781-3139
Menu
Children's Menu
Get Directions
Holidays at the Walnut Room are a special tradition;
here are some tips for making your visit more enjoyable.
We look forward to sharing your day with us!
Walnut Room Holiday FAQ's
How can I make a reservation?
Until November 24th, a limited number of reservations are available by visiting www.opentable.com.
Our Thanksgiving Dinner Buffet, served from 5pm – 9pm on November 24, may be reserved by visiting www.opentable.com. Learn more about our new Thanksgiving buffet here.
We do not accept reservations for any party of any size for Tree. You may go to opentable.com and view if there are any open slots available before 12/26/16.
Pagers for same day seating times are available as soon as the store opens.
How long is the wait to get a table in the Walnut room?
The wait time varies throughout the day. During peak lunch hours of 11:00am-4:00pm, the wait can be up to 3+ hours.
How do the pagers work?
When you pick up a pager you will be given an estimate for the earliest available seating time (or can request a later seating if you prefer). It is our goal to page you within 15 minutes of the quoted time. When you pick up a pager, you will be given an information sheet stating the quoted time and additional pager instruction. Please review this sheet and keep it with you until seated.
Where can I get a pager?
Pagers are available at the pager pick up station located on the 7th floor near the atrium escalators and Frango candy area.
Will the pagers work on other floors of the store?
The pagers are tested to work throughout Macy's on State Street. You can pick up a pager and shop the store while waiting for your seating time. The pagers work best on floors 3-7.
Do the pagers work outside the store?
The pagers do not work outside the store. If a pager is taken out of range it will remain active when it is returned within range of the system. It does not require reactivation. Please note: if the pager is taken out of range we will not be able to notify you if an earlier seating time should become available.
Is parking available?
Discounted parking is available in the Randolph street garage located directly north of the store on Randolph and Wabash. Validation for the discounted parking is available at Macy's Visitor Center located on the Lower level. The Walnut Room does not validate parking slips.
Does the Walnut Room serve breakfast?
Beginning on 11/25/16 through 12/26/16 the Walnut Room will be offering a breakfast buffet, limited to varying days and time. Please refer to the hours of operation posted on macysrestaurants.com for details. Some breakfast hours for the Walnut Room are before store opening, please use the signed entrance. There will be a host to escort you in. Buffet prices are $16.95 adults, $12.95 kids, 3 years and younger free.
Is there some way to shorten the wait time for seating?
The Walnut Room does not take reservations during the holidays. The shortest waits are usually for week days, and early morning breakfast buffet and any time during the weeks before Thanksgiving. Seating under the tree may require an additional wait at this point.  We appreciate your cooperation to minimize the wait for everyone.
Walnut Room Holiday Hours

Week of 10/30/2016

Sunday, 10/30:
11am – 3pm
Monday, 10/31:
11am – 8pm
Tuesday, 11/1:
11am - 8pm
Wednesday, 11/2:
11am - 8pm
Thursday, 11/3:
11am - 8pm
Friday, 11/4:
11am – 8pm
Saturday, 11/5:
11am – 8pm
 Tree Lighting

Week of 11/6/2016

Sunday, 11/6:
11am – 5pm
Monday, 11/7:
11am – 8pm
Tuesday, 11/8:
11am – 8pm
Wednesday, 11/9:
11am – 8pm
Thursday, 11/10:
11am – 8pm
Friday, 11/11:
11am – 8pm
Saturday, 11/12:
8am – 8pm

Week of 11/13/2016

Sunday, 11/13:
11am – 6pm
Monday, 11/14:
11am – 8pm
Tuesday, 11/15:
11am – 8pm
Wednesday, 11/16:
11am – 8pm
Thursday, 11/17:
11am – 8pm
Friday, 11/18:
11am – 8pm
Saturday, 11/19:
10am – 8pm

Week of 11/20/2016

Sunday, 11/20:
11am – 6pm
Monday, 11/21:
10am – 8pm
Tuesday, 11/22:
10am – 8pm
Wednesday, 11/23:
10am – 8pm
Thursday, 11/24:
5pm – 9pm
Thanksgiving Dinner
from 5-9pm
Friday, 11/25:
8am – 9pm
*Breakfast
Saturday, 11/26:
8am – 9pm
*Breakfast

*Breakfast Buffet served.

Week of 11/27/2016

Sunday, 11/27:
8am – 7pm
 *Breakfast
Monday, 11/28:
10am – 8pm
Tuesday, 11/29:
10am – 8pm
Wednesday, 11/30:
10am – 9pm
Thursday, 12/1:
10am – 9pm
Friday, 12/2:
9am – 10pm
Saturday, 12/3:
8am – 10pm
*Breakfast

*Breakfast Buffet served.

Week of 12/4/2016

Sunday, 12/4:
8am – 8pm
 *Breakfast
Monday, 12/5:
9am – 9pm
Tuesday, 12/6:
9am – 9pm
Wednesday, 12/7:
9am – 9pm
Thursday, 12/8:
9am – 9pm
Friday, 12/9:
8am – 10pm
*Breakfast
Saturday, 12/10:
8am – 10pm
*Breakfast
*Breakfast Buffet served.


Week of 12/11/2016

Sunday, 12/11:
8am – 9pm
*Breakfast
Monday, 12/12:
9am – 10pm
Tuesday, 12/13:
9am – 10pm
Wednesday, 12/14:
9am – 10pm
Thursday, 12/15:
9am – 10pm
Friday, 12/16:
8am – 11pm
*Breakfast
Saturday, 12/17:
8am – 11pm
*Breakfast
*Breakfast Buffet served.


Week of 12/18/2016

Sunday, 12/18:
8am – 10pm
*Breakfast
Monday, 12/19:
8am – 11pm
*Breakfast
Tuesday, 12/20:
8am – 11pm
*Breakfast
Wednesday, 12/21:
8am – 11pm
*Breakfast
Thursday, 12/22:
8am – 11pm
*Breakfast
Friday, 12/23:
8am – 11pm
*Breakfast
Saturday, 12/24:
8am – 5pm
*Breakfast

*Breakfast Buffet served.




Week of 12/25/2016

Sunday, 12/25:
Closed
Monday, 12/26:
8am – 8pm
Tuesday, 12/27:
11am – 8pm
Wednesday, 12/28:
11am – 8pm
Thursday, 12/29:
11am – 8pm
Friday, 12/30:
11am – 8pm
Saturday, 12/31:
11am – 5pm

Week of 1/1/17

Sunday, 1/1
11am – 6pm
Monday, 1/2
11am – 8pm
Tuesday, 1/3
11am – 8pm
Thursday, 1/4
11am – 8pm
Friday, 1/5
11am – 8pm
Saturday, 1/6
11am – 8pm